Price per month: 145e +VAT
External finishing: galvanised, profiled
painted metal
Colour: anthrocyte
Interior: laminated plywood
Assambley:
Wiring
2 double electrical sockets
1 daylight lamp
1 door with lock
1 window
External dimensions:
Length 6055 mm
Width 2435 mm
Height 2591 mm
Internal dimensions:
Length 5860 mm
Width 2240 mm
Height 2340 mm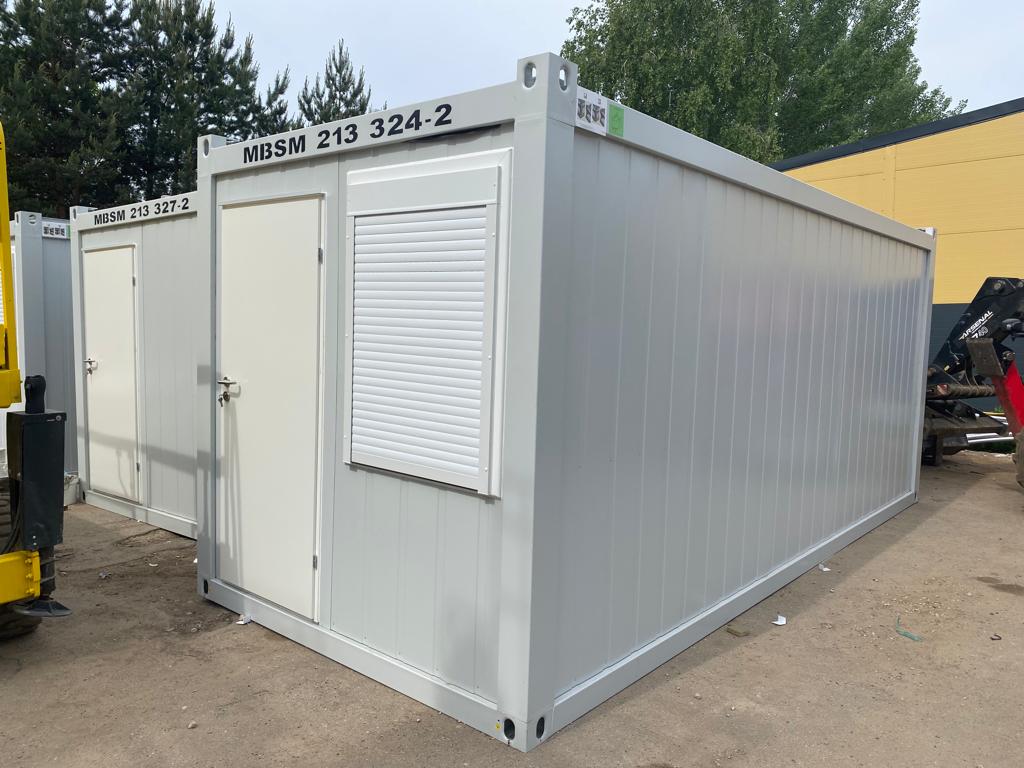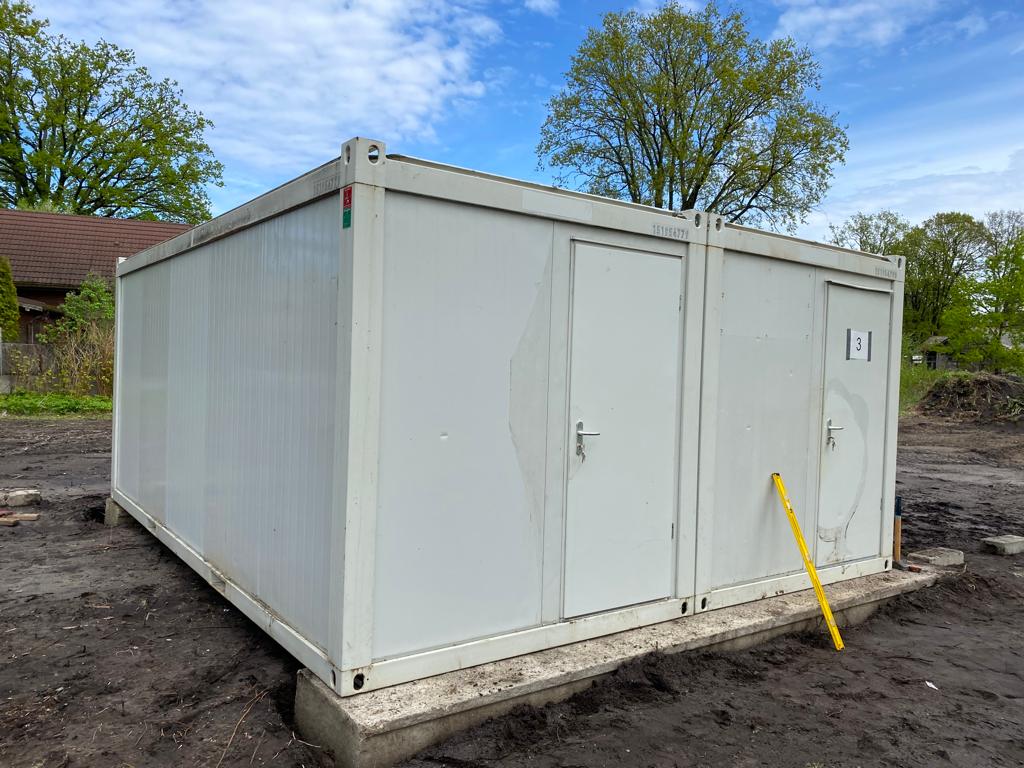 Price per month: 140e +VAT
External finishing: galvanised, profiled
painted metal
Colour: grey
Interior: laminated plywood
Assambley:
Wiring;
2 double electrical sockets
1 daylight lamp
1 door with lock
1 window with protective blind
External dimensions:
Length 6055 mm
Width 2435 mm
Height 2591 mm
Internal dimensions:
Length 5860 mm
Width 2240 mm
Height 2340 mm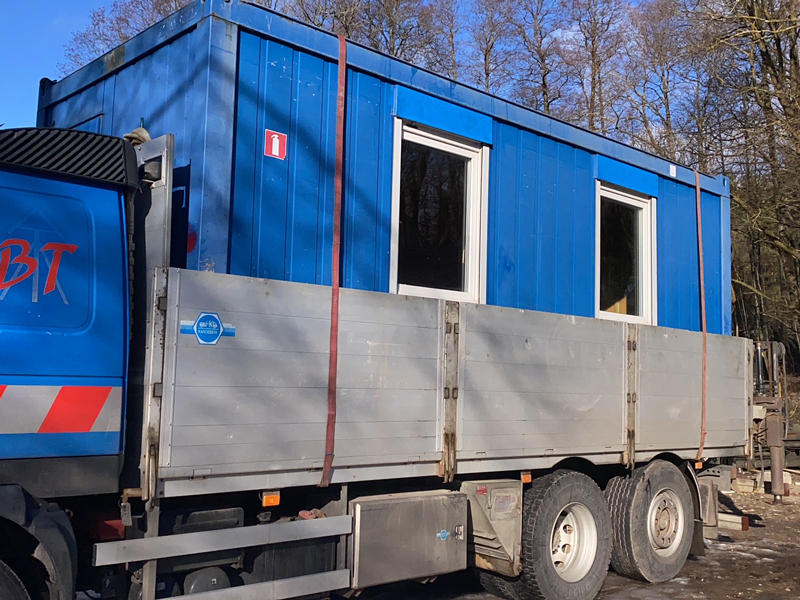 Price per month: 120e +VAT
External finishing: galvanised, profiled
painted metal
Colour: blue, green
Interior: laminated plywood
Assambley:
Wiring;
2 double electrical sockets
1 daylight lamp
1 door with lock
2 windows with protective blinds
External dimensions:
Length 6055 mm
Width 2435 mm
Height 2591 mm
Internal dimensions:
Length 5860 mm
Width 2240 mm
Height 2340 mm
Office modules are an excellent way for companies to save space, increase productivity, and stay organized in their office. Modules can be custom built to fit the needs of each company. The size of the business will determine the size of the module needed. They are also available in a variety of shapes and sizes to accommodate for these needs. The need for office space has necessitated the development of modular office spaces. Office containers are just one example of this type of office that can be constructed off site and then transported to its desired location. They are typically made of steel or aluminum, with walls that are usually 10 feet high and often come with floor-to-ceiling windows. The idea of an office outside of an office is not novel. An abundance of mobile, modular offices (or offices that you can move) exist for rent or sale to accommodate the different needs of small businesses. These containers are often used in temporary scenarios like construction sites and natural disasters, but they're also popular with rental companies who provide them as temporary offices for workers on the go.
Office containers are a technological innovation that has been used to modernize the traditional office space. When a company needs more office space, they can order an office container and break it down when they no longer need it. These containers are often built from recycled materials and occupy a smaller footprint than a regular building would. The newest innovation in office spaces is modular offices. This system has been around for years, but companies are now turning to it as an affordable, environmentally-friendly option for their employees. Modular offices are built off-site, usually in a warehouse or factory. When they are sent to their final destination, the modules are assembled by professional contractors at the job site. They come with all of the necessary furniture and equipment so that your company can start using them right away. One of the most common problems companies face is an inefficient workplace. The traditional office layout, with hallways and cubicles, was not designed for or meant to be used in today's world. With an increase in technology and communications, there are simply too many barriers that make it difficult to collaborate and communicate effectively.
Office containers, also known as modules, are a great way to add more space to your office without needing to purchase and build an entire new office. The module can be designed in any way that will suit your business needs and you can take the container with you when you move offices. Modules come in convenient sizes and can even be combined for large projects. While we may be living in a time period where more and more people choose to work from home, the office still has its place. The layout and state of design for office spaces is constantly evolving with each passing year as new technologies are introduced. One of the latest innovations in office space can be found in the use of modular containers. Office containers and modules are a great way to maximize the use of space in your office building. The containers and modules can be stacked and can be used for just about any type of office setting: from an informal meeting room to a formal conference room. These containers and modules are also available in many different sizes, meaning that they can accommodate any size of company.
Office containers offer a simple and affordable way to add much-needed space to any business. The sturdy, modular units can be installed in a day, and best of all, they only take up the ground space of the area they occupy. Office containers allow for faster and easier-to-manage expansion than traditional buildings, and also offer a cost-effective alternative to costly renovations. Office containers and modules are a way to provide an office space in a small area. The concept of moving offices from a traditional brick and mortar building to a container is not new, but the idea of constructing the office out of steel containers being positioned on rails to be towed into different areas for business purposes has recently come into prominence.
The idea behind this is that these modules can be put in any location where land is available, thereby saving money when considering leasing or buying property.
Since the majority of work is now done remotely, businesses are looking for creative solutions to provide space for their employees. One option is to use office containers, also known as modules. Office containers are temporary structures that can be moved around depending on need. While they offer companies an inexpensive option for quickly creating office space, there are some challenges with using them. For example, office containers have a limited lifespan due to the lack of insulation and soundproofing. Many business owners may wonder what they can do to create more office space within their building. With the amount of lease space available shrinking and the cost increasing, many professionals are now looking for alternatives. Containerized modular offices provide a quick and easy way to increase an office's square footage. These containers come with a variety of benefits that make them a smart alternative for any business owner looking to save money and utilize their space more efficiently.
Office containers or modules are a good option for companies that want to have an open space while still having a sense of privacy. It can also be a great way to separate departments and prevent them from overhearing one another. Office containers offer versatility in the space because they can be moved around and placed right next to each other or across from each other, depending on the company's needs. Over the last 15 years, office environments have been changing dramatically. Almost every week there is a new trend in design that comes out to make office spaces more efficient and responsive to different needs. Office containers or modules are the latest evolution of an office space because they offer maximum flexibility for how employees work, eat, and socialize.
Delivery
Moduls rental and delivery is possible throughout Latvia. Delivery costs depend on where they are to be delivered. The total delivery costs are the distance from Dzilnuciems to the place of delivery of the equipment. However, for mobile fences, the customer can also pick them up at the company's warehouse, so there is no need to pay for delivery.