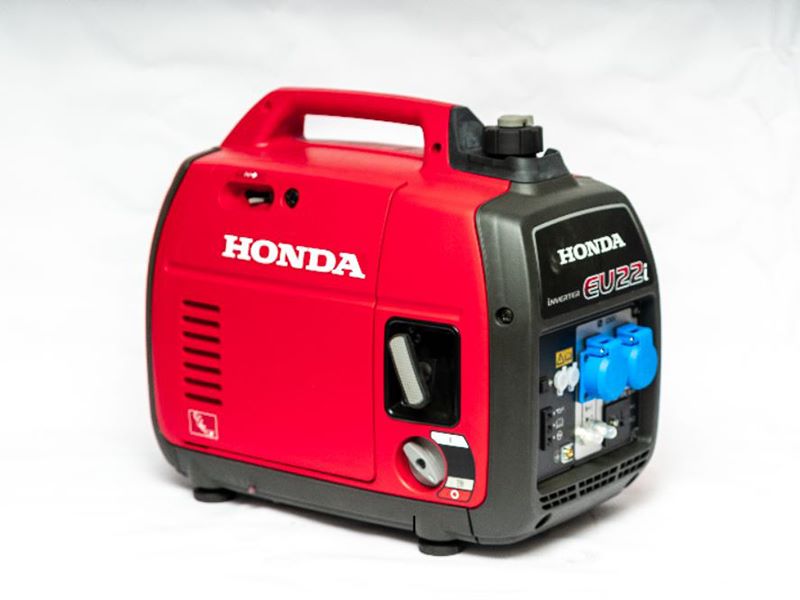 Engine type: GX120
Working power: 1.6kw (7.0A)
Maximum power: 2.0 kw (8.7A)
Starter: hands
Fuel tank volume: 3.6l
Operating time with a full tank: 3.5h
Frequency: 50hz
Voltage: 230v
Current strength: 7A
Voltage regulation: inventor
DC rated input: 12v/8A
Operating volume: 81-89dB(A)
Width: 29 cm
Length: 51 cm
Height: 42.5 cm
Weight: 21 kg
We offer a range of generators to fully meet the requirements of the rental market. Rental generators range from 10 kVA to 200 kVA, with specifications that can be adapted to commercial needs. These generators are of the highest quality, with rugged, durable components and excellent adaptability to the operating conditions.
The rental generators are available in 4 different sizes, are fitted with the best engines on the market and are suitable for accommodating engines with emission levels.  The range of rental generators is full of reliable and easy to use solutions that meet the requirements of the most demanding customers.
All of our rental generators guarantee a high level of quality and ensure high reliability with excellent performance as well as robustness and simplicity of use.
Specifically, we have exclusive models of generating sets which comply with safety standards and have a low noise level so that they can be used in various environments such as homes, construction, tourism, industry, agriculture and civil defence.
Hire soundproofed diesel generators, from 20kVA to 2100kVA, for work or emergency situations.
We provide uninterrupted work day and night with our generator hire service. With equipment from 20kVA to 2100kVA, we have the power supply you need to run your business.
Whatever the need, our power generators are an efficient option, giving you the power you need for as long as you need it.
Generating sets are readily available and can be supplied and installed rapidly according to your needs.
We provide a full range of services, from an initial needs analysis to on-site maintenance.
Our generator hire offers are flexible and customised to your needs. We offer you a versatile energy solution with the ability to ramp up on demand. The existing capacity of the energy solution can be gradually increased or decreased, and our generating sets can be rented on a short, medium- or long-term basis depending on your needs.
Our generators have a modular design, so kits can be expanded or reduced to provide the voltage and power you need, no more and no less. As we offer a wide range of sizes, we can combine our generators in a variety of ways to provide the exact amount of power your facility needs.
Or, if your energy needs change, we'll design a 'load on demand' configuration where our generating sets automatically switch on and off according to the site's load needs; meaning we only supply the energy you need when you use our services, saving fuel, emissions and costs.
No capital investment required. Rental equipment eliminates the need for capital investment to acquire ownership. Avoid huge investments in industrial equipment, interest, maintenance costs and equipment obsolescence.
Rent is less of a risk. We are responsible for the equipment, personnel and operation of the equipment, relieving the customer of financial responsibility.
There are often activities and sectors where electricity demand is temporary and associated with peak periods. The investment required to purchase a generating set is high, and if the energy demand is temporary, the investment is unprofitable.
For an optimal approach to sectors where noise pollution is critical, generators with sound and emission control systems that fulfil all standards, and fully insulated fuel tanks to eliminate the risk of leakage, are an indispensable solution.
The first important characteristic to assess is obviously the rated output of the generator. Based on this value, you can get a rough idea of the actual performance of the equipment.
Domestic use requires a low noise level. And when we mention a domestic environment, we're not just referring to the home, but to anything in the private sphere. Whether the product is placed in a garage or a warehouse, the level of noise generated can make a difference. By comparing the time of use and the noise generated, a good compromise can be reached and the preferred product can be found.
For instance, the noise level produced by electric generators used for garage or warehouse work can be a factor that can be neglected if short-term work is intended, whereas it can become very annoying in the case of long or prolonged work.
We provide several models of the best brands for generator rentals, with varying capacities. The generators offered for rent meet all the requirements in order to guarantee our customers maximum efficiency.
You can rent them online on our website and pick them up at our office. Fuel-fired generators fall into two categories: petrol and diesel. Petrol generators have the advantage of being compact and lightweight, and can be loaded directly into the boot of a car or van, while diesel generators have significantly more power and consumption in proportion to their weight. They are also suitable for outdoor use thanks to their galvanised sheet metal protection and insulation which, in addition to making them weatherproof, reduce noise emissions.
The fork base and centre point of the lifting hook make it easy to move. Another strong point is the electrical panel, with a variety of outlets, both three-phase and single-phase sealed, with separate circuit breakers. To transport large generators you will need a truck, which you can rent from us. The power generator is an indispensable tool for those working away from the power grid and is useful in a variety of sectors; it is suitable for use by professionals and private individuals alike.
The option of generating electricity without connection to the power grid, using an easily transportable generator powered by petrol, diesel fuel or a mixture of the two, is a convenience for many activities carried out by both companies and individuals in a wide range of sectors.
If you would like more information on generators, prices and offers, do not hesitate to contact us, a specialised technician will be at your disposal to answer all your questions.
Power consumption: as you may have realised by now, power generators not only vary in size and portability but also in terms of power output. To make sure you have enough power to power all your equipment, you need to calculate the total consumption of the tools you intend to plug in.
Type of power source: Electric generators can have either a heat engine, an electric motor or a mixed motor. Gasoline/diesel powered generators.
Noise levels: This may seem like a small thing, but this aspect should not be underestimated, especially if you intend to use electric generators outdoors.
Ease of transport: generators need some kind of help when you are transporting them. Those designed for industrial use, which need to be lifted and placed on the ground, provide special hooking points, while portable ones have wheels and handles to make it easier for you to grab them.
Durable construction materials: the best generators are made from robust materials that are resistant to vibration and high temperatures. Equally important is the external insulation, which protects the entire structure from moisture.
Included accessories: Although it may seem like a minor element, some of the included accessories can play a crucial role in choosing the best generator. It is important to check the number of sockets, the size of the built-in tank and the presence or absence of a control system. The latter is essential to monitor the proper functioning of the generator with a clear indication of possible damage, faults or simple overloading.
In the case of long term leases, we provide our customers with standard and unscheduled maintenance services to ensure that downtime is kept to a minimum.
We offer versatile rental solutions, ensuring maximum performance with fast service and transport.
Delivery
Generator rental and delivery is possible throughout Latvia. Delivery costs depend on where they are to be delivered. The total delivery costs are the distance from Dzilnuciems to the place of delivery of the equipment. However, for mobile fences, the customer can also pick them up at the company's warehouse, so there is no need to pay for delivery.