Price per month: 145e +VAT
External finishing: galvanised, profiled
painted metal
Colour: anthrocyte
Interior: laminated plywood
Assambley:
Wiring
2 double electrical sockets
1 daylight lamp
1 door with lock
1 window
External dimensions:
Length 6055 mm
Width 2435 mm
Height 2591 mm
Internal dimensions:
Length 5860 mm
Width 2240 mm
Height 2340 mm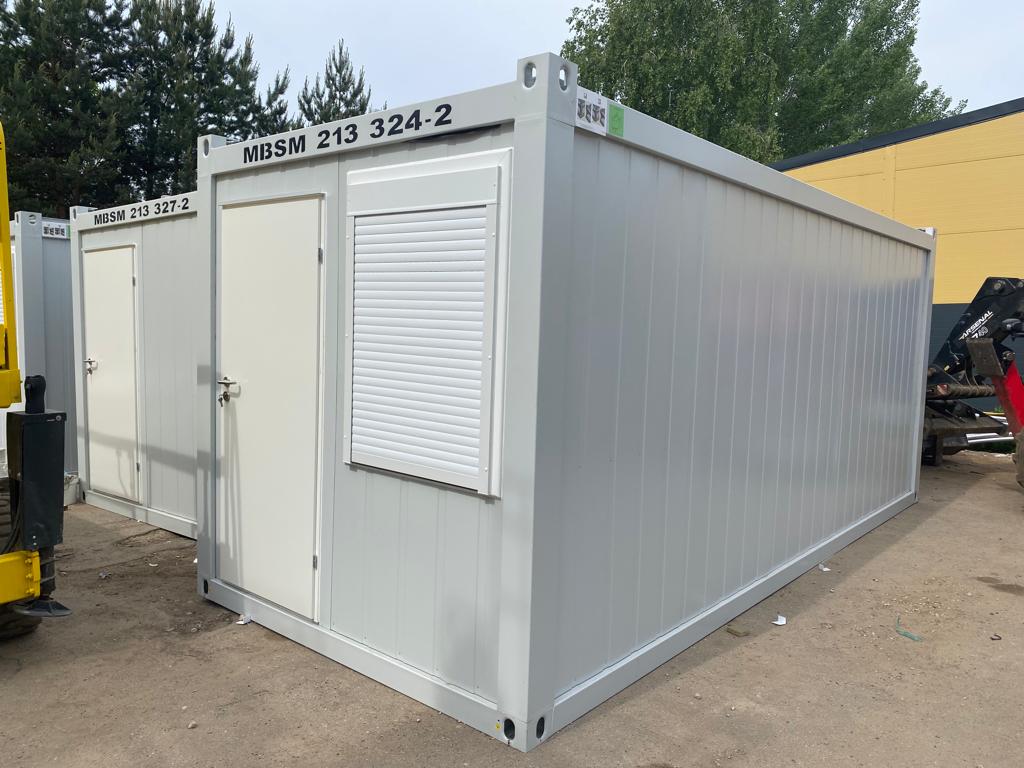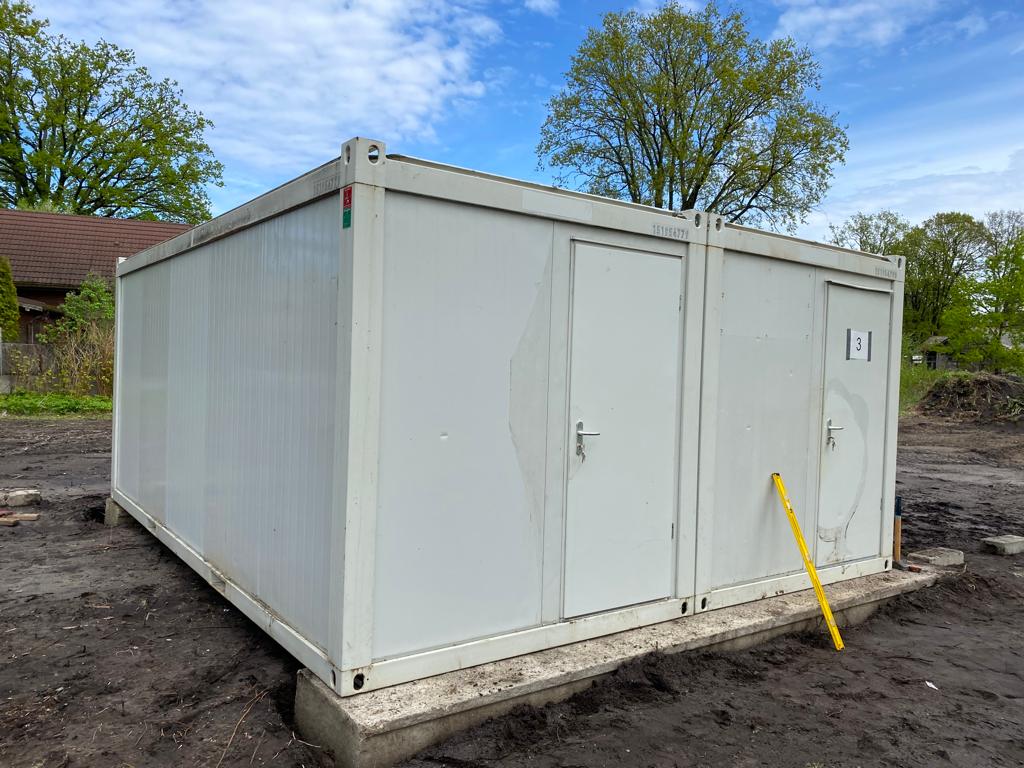 Price per month: 140e +VAT
External finishing: galvanised, profiled
painted metal
Colour: grey
Interior: laminated plywood
Assambley:
Wiring;
2 double electrical sockets
1 daylight lamp
1 door with lock
1 window with protective blind
External dimensions:
Length 6055 mm
Width 2435 mm
Height 2591 mm
Internal dimensions:
Length 5860 mm
Width 2240 mm
Height 2340 mm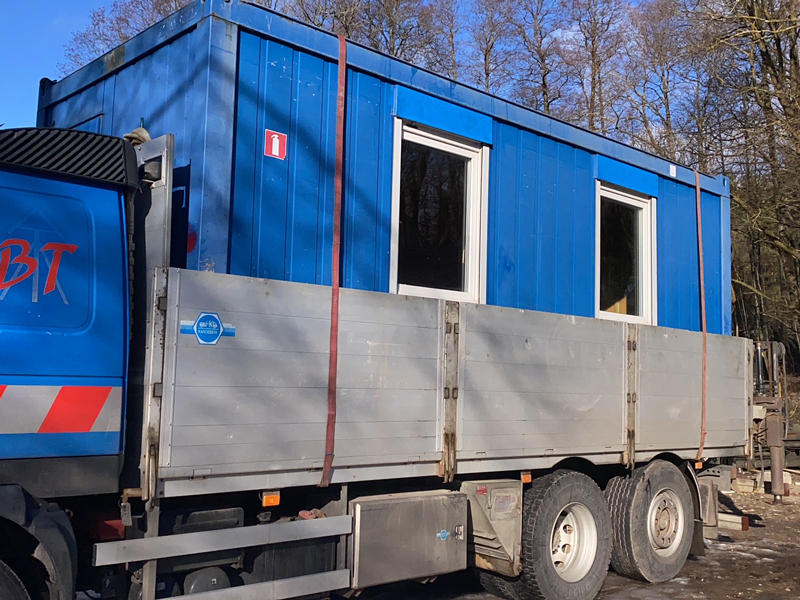 Price per month: 120e +VAT
External finishing: galvanised, profiled
painted metal
Colour: blue, green
Interior: laminated plywood
Assambley:
Wiring;
2 double electrical sockets
1 daylight lamp
1 door with lock
2 windows with protective blinds
External dimensions:
Length 6055 mm
Width 2435 mm
Height 2591 mm
Internal dimensions:
Length 5860 mm
Width 2240 mm
Height 2340 mm
A brief introduction to the building modules, for those who are unfamiliar with them: As a rule of thumb, most guards need an access point to enter and exit. Building modules like doors and windows can also serve as a gate for accessing the guard module if necessary. Doors come in all shapes and sizes, but the basic principle is simple: A door is programmed to remain locked or not locked at the given time. For years, our country has relied on military personnel to protect our borders. Yet with the recent rise in terrorist attacks, it is becoming more difficult to keep these borders secure. This is why the Department of Defense has continued working on developing new technology to make this process easier. One such technology includes building modules that will allow border security to be maintained remotely with minimal human interaction. For a family that has finally made it to a safe zone, the first order of business is protecting themselves from harm. This can be achieved by building guard modules around their perimeter. Guard modules are essentially traps for attacking zombies and other survivors. They are used as an effective method of preventing intruders from entering your territory and they also provide a means for surveillance and protection against wildlife such as bears and coyotes.
Guard modules are a company that is revolutionizing the home security industry. They started in 1998 with a single idea, to create the perfect modular package of supplies for your home security needs. This article will tell you everything you need to know about building or maintaining guard modules. It will cover what they are, how to build them, and how to maintain them.
There is a lot of work associated with guarding your buildings. Guard modules are the best way to protect your buildings from raiding parties or theft; however, they can also be costly if not built properly. This article will cover what guard modules are, how to build them, and how they can be maintained. The business of building and installing guard modules has grown exponentially in the past decade. What was once a small-time occupation has become a billion dollar industry with many companies competing to provide better and more innovative modules. This is because the demand for guards, as well as the need for security measures, is at an all-time high. Guard modules are necessary for most facilities that house high-value goods, such as bank vaults and museums.
Intruders and trespassers, beware: you're about to meet some of the most advanced building security on the market. Guard Modules is a company which specializes in security technology for high-end residential and commercial buildings. They use cutting-edge technology to "turn any structure into a fortress." The technology they employ includes an invisible laser field around the perimeter, as well as motion detectors and pressure plates. The construction of guard modules is a meticulous process that can be costly, time-consuming and dangerous. Guard modules are typically constructed in the home or office of the client. The process can take up to 3 weeks with an average cost of 3,000,- EUR depending on the design and complexity. There is around an 80% chance that any construction will require some changes and so it is important to figure out what you want before contacting a contractor. Building modules is an age-old practice that has been around since before the beginning of civilization. With more and more people stepping away from the traditional 9-5 lifestyle, their homes are often left unoccupied for long periods of time. This has led to a rash of home invasions across the country, which can be largely attributed to our guard modules. It's not uncommon for some homeowners to leave their guard modules vulnerable, while others neglect them altogether after installation.
Building modules are used for dwellings, where guard modules are used to protect property. Guard modules are often the first line of defense against thieves and other intruders. They can be equipped with weapons or tools to help them in any given situation. These tools are not only limited to firearms, but are also able to have specialized tools such as tasers or pepper spray, for example. The term "building module" can be defined as a type of construction module that serves as the fundamental building block of architecture. This article reviews the history of architecture, and how modules can be defined not only by size or shape, but also by function and time periods.
Building modules: the fundamental building blocks of architecture. Architects and builders alike rely on these structures to build and construct our world's landscapes. The common misconception is that guard modules are just made to stop intruders. In reality, guard modules are designed to monitor your building's usage by controlling when doors can be opened. This helps reduce electricity costs because when the door is open the lights, heater, and cooling system are all on. Guard modules also provide the added benefit of security for your buildings.
Through my analysis of the modules, I have found that there are many ways that these modules could be used throughout a space. Both the Building and Guard Module are very versatile, so they can be used in many different ways. For example, using one building module with another building module to create a bridge. Or using two guard modules side by side to prevent enemies from passing through. What are the best methods to protect vulnerable buildings from vandalism?
Vulnerable buildings need to be protected against vandalism. There are a variety of ways this can happen. One way is to install guard modules on the exterior of the building. Guard modules can be installed on several different points and then video surveillance is used to monitor what's happening near these points and who's coming and going. If someone suspicious is caught, their face will be recorded and police may get involved.
Delivery
Moduls rental and delivery is possible throughout Latvia. Delivery costs depend on where they are to be delivered. The total delivery costs are the distance from Dzilnuciems to the place of delivery of the equipment. However, for mobile fences, the customer can also pick them up at the company's warehouse, so there is no need to pay for delivery.